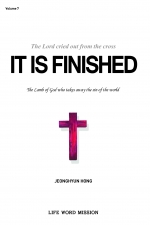 [Bible Seminar7]_ It is finished
저자 : 홍정현 목사
pdf 받기

67
Lord, remember me when You come into Your kingdom (Luke 23:42)
This criminal realised the truth,
that Jesus was the long awaited Messiah,
so he turned away from sin and towards Jesus.

This Man, whom the criminal had insulted only a few minutes ago, became his personal Messiah. Perhaps he was embarrassed to ask directly, "Can you please save me?" So instead he said, "Lord, remember me when You come into Your kingdom." So, what happened to him?

Chapter l 1 What is happiness?
Chapter l 2 The criminal on the cross
Chapter l 3 The offerings of Cain and Abel
Chapter l 4 The Passover Lamb
Chapter l 5 The redemption sacrifice
Chapter l 6 Because He loves me