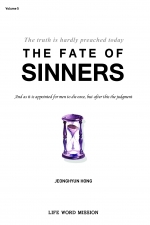 [Bible Seminar5]_ The fate of sinners
저자 : 홍정현 목사
pdf 받기

60
And as it is appointed for men to die once, but after this the judgment (Hebrews 9:27)
Judgment is awaiting us after death.
Have you ever imagined the day you would face God,
while you are still His enemy?
I am going to hell because I am a sinner. The most crucial point to realise in order to receive salvation is to know that I am a sinner. I must understand that, as a sinner, I have no choice but to go to hell and there is absolutely nothing I can do to escape this fate. Therefore, we first need to know what a sinner is and the fate for them that lies ahead.

Chapter l 1 Why am I a sinner?
Chapter l 2 Know that God will bring you into judgment
Chapter l 3 The Pharisee's misconception