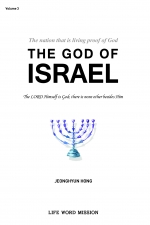 [Bible Seminar3]_ The GOD of Israel
저자 : 홍정현 목사
pdf 받기

72
"Then you shall know that I, the Lord, have spoken it and performed it," says the Lord. (Ezekiel 37:14)
A heap of dry bones were revived and became an exceedingly great army.
The nation that had been miserably slaughtered,
has now been restored in our generation.
This is a miracle that can only be performed by God who is able to raise the dead. If a dead person is raised to life again, isn't that a miracle? How much more then is the restoration of the nation of Israel that now sits at the head of the world after two thousand years of devastation? We have seen this miracle of God accomplished: the revival of dry bones which became an exceedingly great army.
Chapter l 1 God works miracles
Chapter l 2 God gives blessings and curses
Chapter l 3 God steers history according to the scriptures