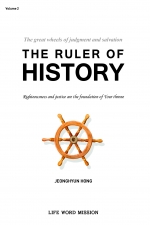 [Bible Seminar2]_ The ruler of History
저자 : 홍정현 목사
pdf 받기

72
The Lord has established His throne in heaven, And His kingdom rules over all. (Psalms 103:19)
The fundamental principle of God's sovereignty is
righteousness and justice. God's rule has been manifested
throughout human history as judgment.
The subject of God's holiness and righteousness has been neglected in our generation. People do not like talking about God's righteousness, and by doing so they deny this very important truth of the Bible. Therefore God, who is entirely righteous, sends people into hell because they deny the truth to the very end. History shows us that even though judgment of the wicked is slow, it always comes. It is because God is the One behind history and He is righteous.
Chapter l 1 God steers the wheels of time
Chapter l 2 The first judgment occurred in the Garden of Eden
Chapter l 3 The second judgment was a worldwide flood
Chapter l 4 Judgment at the Tower of Babel: The dispersion of mankind
Chapter l 5 Judgment throughout the history of Israel
Chapter l 6 History's last page: Judgment by fire