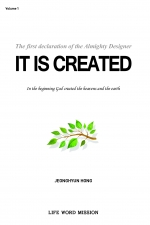 [Bible Seminar1]_ It is created
저자 : 홍정현 목사
pdf 받기

105
In the beginning God created the heavens and the earth. (Genesis 1:1)
We are not creatures that exist as a coincidence, we are exquisitely created by God for His special purpose. The Bible begins with this principal truth.
Is death really the end of everything? If visible things are an end in themselves and death is the end, then what is the meaning of my existence in this great universe? Why should I pursue this existence which is like a spec of dust in the universe? It would be exactly futile and vain. What is the point of discerning good and evil? How is it possible to set the standard for encouraging good and condemning evil?
Indeed, death is not the end but the beginning of another world. Although no one knows when, every single person will meet God and stand before Him alone. Are you ready for that day?

Chapter l 1 Does God truly exist?
Chapter l 2 What kind of book is the Bible?
Chapter l 3 What is the origin of all things?
Chapter l 4 Unless one is born again
Chapter l 5 What is man?